Isolation Valves


Isolation valves: on/off valves
Typically operated as fully open or fully closed
Designed to have a tight reliable seal during shut-off and minimal flow restriction when open.
Cylinder Brackets


Cylinder brackets to protect gascylinder against falling and to position the cylinder
Suitable for 20-ltr-and 50-ltr gas cylinders

Made of Cast Aluminium and Powder Coated with Chain Link made of Zinc Plated Steel.

Available for 20-Ltr-130mm and 50-Ltr-180mm
Flashback Arresstors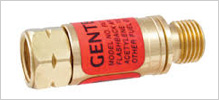 Flashback arrestors and reverse flow check valves provide additional protection against flashbacks. ctor We recommend the use of these devices whenever possible. Flashback arrestors contain both a build in Non Return valve and a flashback arrestor.


IT IS IMPORTANT TO UNDERSTAND THE DIFFERENCE BETWEEN NRV AND FLASH BACK ARRESTORS.
Non return Valves: Helps to prevent the reverse flow of gases from traveling past the check valves.
Flashback Arrestors: Prevents a flame from traveling past the flashback arrestor in the event of a flashback.

Clamps

O shaped PVC insulated clamps for laying MS,SS,Cu pipeline.

Features

Excellent grip
PVC layer imparts electric insulation
Can be fixed directly on Wall as well as structure support.

Solenoids Valves

Electrically operated.
Valve plug is held in place by a spring.
When power is applied, the current draw through the coil generates an electromagnetic force that opposes the spring and changes the plug position.
When power is taken away, the spring returns the plug to its normal position.
Available in NO/NC position.