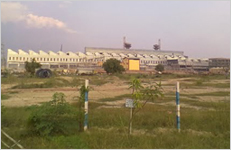 CHHAPRA WHEEL PLANT (BIHAR)

Rail Wheel Factory, Bela is a subsidiary of Indian Railways. It is situated in Bela Gram Panchayat, Dariyapur Block Parsa and Saran district of Bihar. It was inaugurated in 2008 by the former Railway Minister of India, Laloo Prasad Yadav. It was built at a cost of 1,500 crore (US$270 million). It is spread over a land area of 131 acres. Its management is under East Central Railway Zone headquartered in Hajipur. The project is being looked after by Workshop projects/Indian Railways, Patna.

The rail wheel plant's construction started in July 2008. This plant is a step to revive industrialisation in Northern Bihar .Indian Railway made history by awarding this project as EPC contract to M/s Larsen & Toubro Limited. It was for the first time in history of Indian Railways that a highly sophisticated factory was set up without any foreign collaboration. It was possible because of in house capability of Railway engineers and Expertise of World renowned Indian company .ECC division of L&T was involved in Civil & Electrical works, whereas Railway Business Unit (An initiative of L&T in Rolling stock projects) set up the M&P's along with interfacing of the equipments. Ewac Alloys Ltd a subsidiary of Larsen and Toubro was awarded the contract for installation of Gas pipeline system. Ms Unique Pipeline Projects Pvt Ltd was entrusted this job for installation and commissioning the Oxygen, LPG and Propane pipeline system .

Working in close coordination with Railways, L & T achieved completion of project within stipulated timeframe of 40 months (which includes 24 months of original time schedule and additional extensions).

It was a challenge for Railways to start civil works in such a difficult site which is surrounded by river bodies from all sides. To add much complication the elevation of plant was lower than the river bed. Also the soil was so loose, railways made use of stone columning for increasing the load-bearing capacity of soil.

Nearly 3000 workers were employed during peak construction period and as many as 300 highly skilled engineers of various domains like Mechanical, Electrical, Civil, IT, ECE, Mechatronics etc. were engaged during project implementation.

Being in a remote area of Bihar, there was constant fear of unlawful activities by locals, Maoist. To address these issues L&T deployed 24-hour all-round security to plant.
Jhansi Railway Workshop(Modernization Project)

The North Central Railway is one of the seventeen railway zones in India.The largest railway station in NCR is Kanpur Central followed by Mughal Sarai. It is headquartered at Allahabad and comprises three divisions: reorganized Allahabad division of the erstwhile Northern Railway, Jhansi division of the erstwhile Central Railway, and newAgra division.

There are two workshops on the North Central Railway. Wagon Repair Workshop, Jhansi deals with repairing of wagon stock of Indian Railways. It was established in 1895. Rail Spring Karkhana , while Sithouli deals with manufacturing of Coaching Stock springs as well as Locomotive springs.

North central railway initiated the modernization of this plant and awarded the project to Ms Larsen and Toubro Ltd. Ms Ewac Alloys ltd a subsidiary of Ms L&T was entrusted with the job of installation of Oxygen Gas Pipeline and subsequently for carbon dioxide too.

Ms Unique Pipeline Projects Pvt Ltd was entrusted with the installation and commissioning of the same due to their expertise and proven track record at Rail wheel Factory CHHAPRA.

The said project is now underway and is scheduled to be completed shortly. We have already tested and commissioned Shed "A" and Shed "C" and routine production is currently being carried out on our system.